Spring 2023 featured room transformation
multipurpose guest room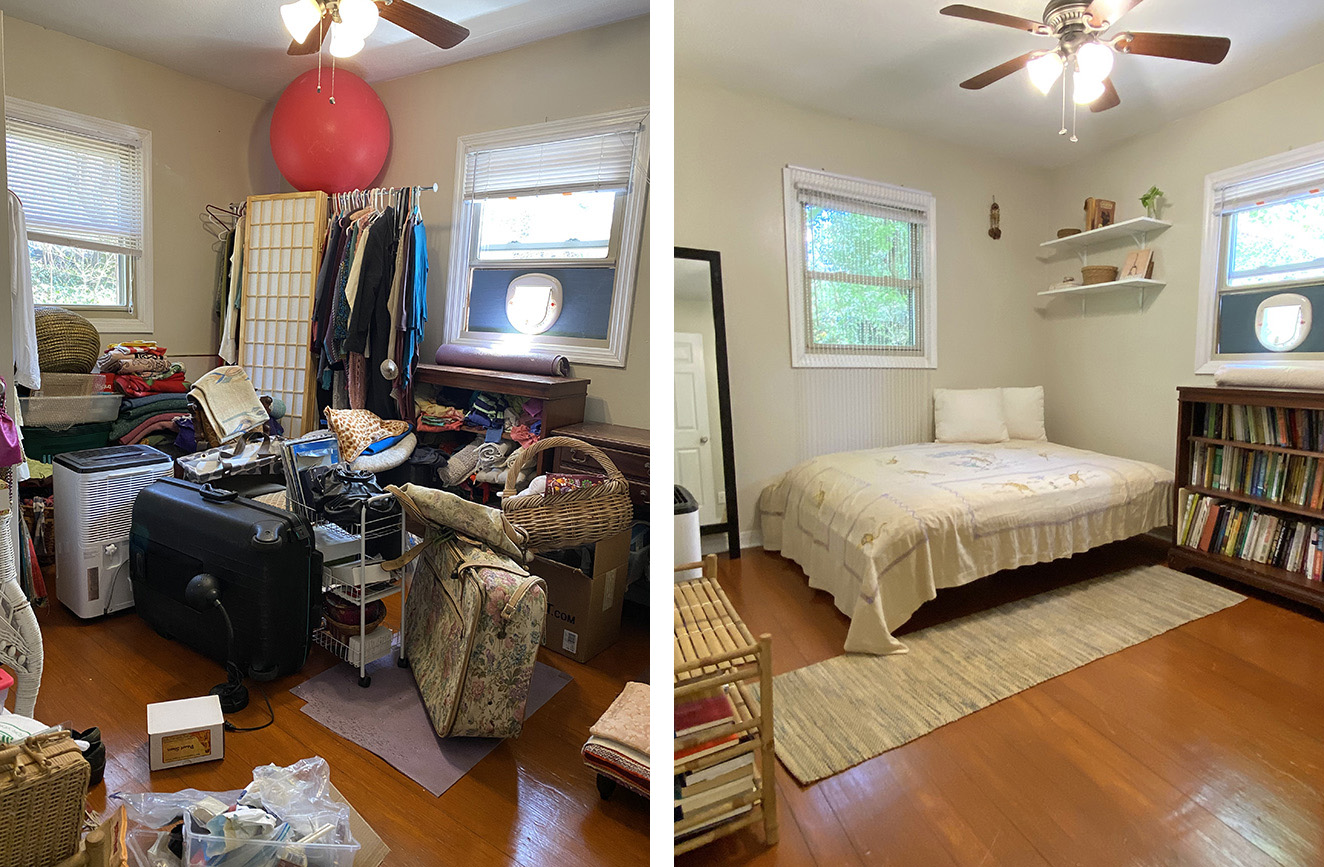 Before & After | This room had become a catch-all and a source of stress for the homeowner who wanted to create a functional multipurpose guest room. We simplified the space and created designated areas for reading, yoga, and sleeping.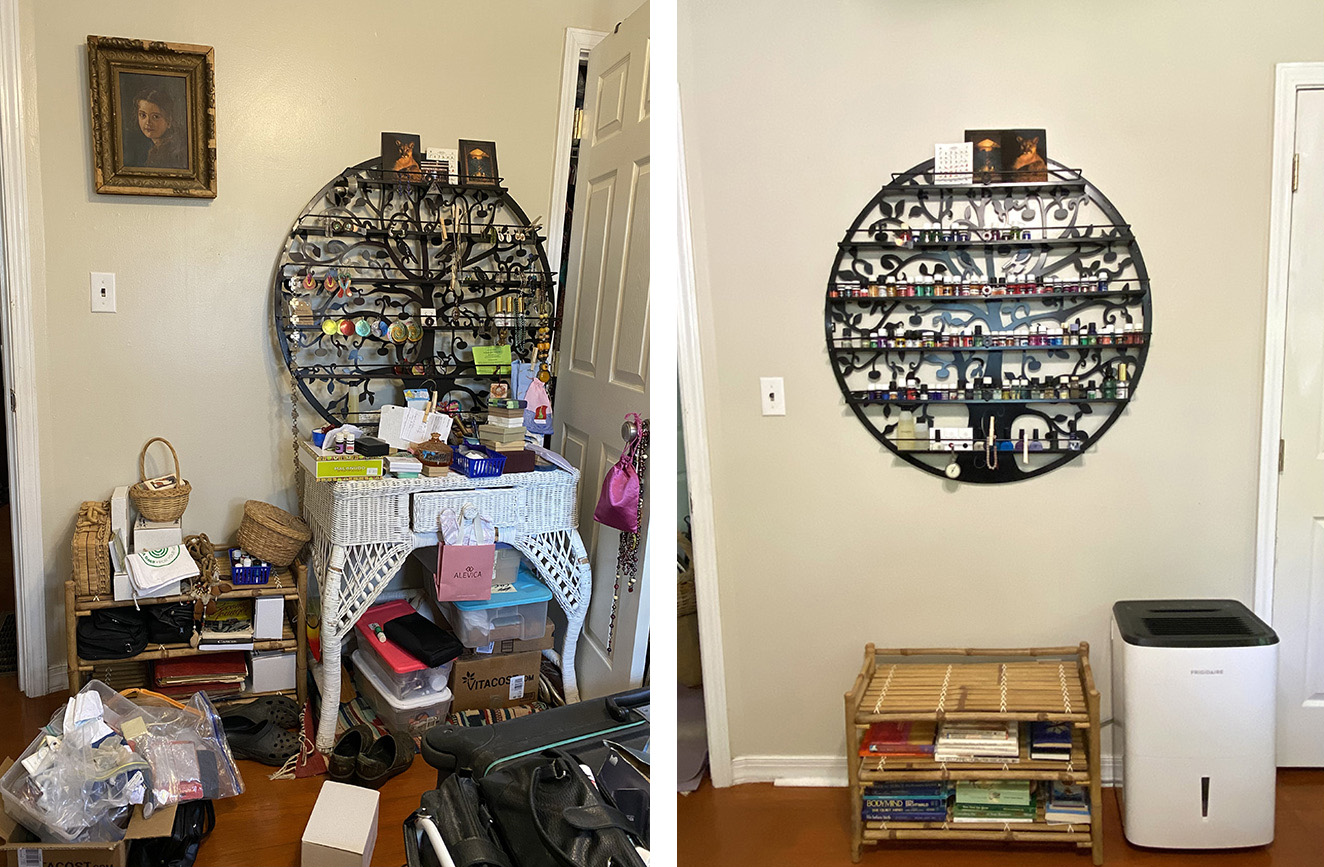 Before & After | This wall was visually cluttered and lacked purpose. We designated the existing custom art piece as a functional storage rack, and reduced the number of items in this area, creating more open space and visual appeal.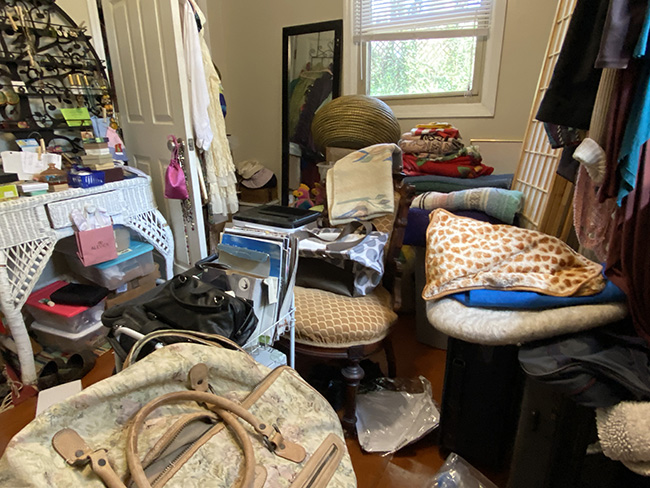 Before | Initially, the floor was cluttered with furniture and miscellany that we sorted into easily-identifiable categories. We then relocated relevant retainable items into short and mid-term storage within other areas of the home.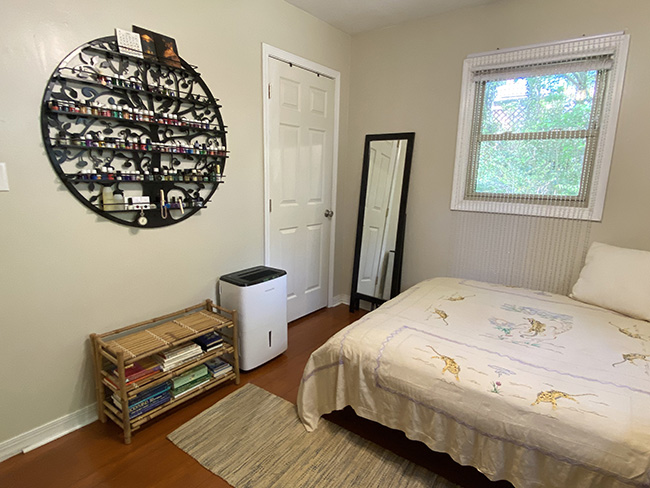 After | We utilized existing furniture and decor to create a more cohesive color scheme that feels clean, spacious, warm, and inviting. This newly-organized room now functions as a guest room, a reading area, and a space to practice yoga.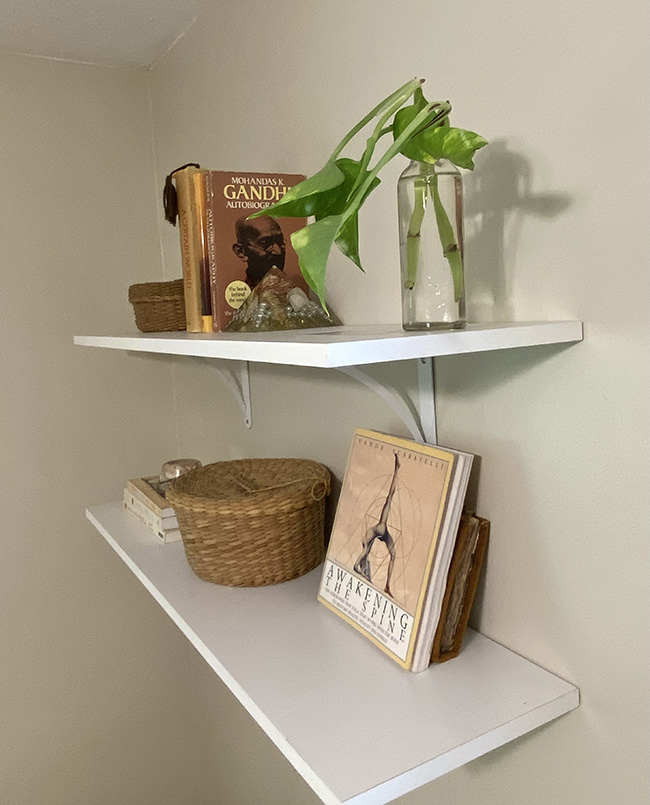 After (details) | We adorned the wall shelves with a selection of the homeowner's favorite items, showcasing them as artistic elements by using colors that further enhance the calming and aesthetically pleasing decor. 
home organizing before + after photos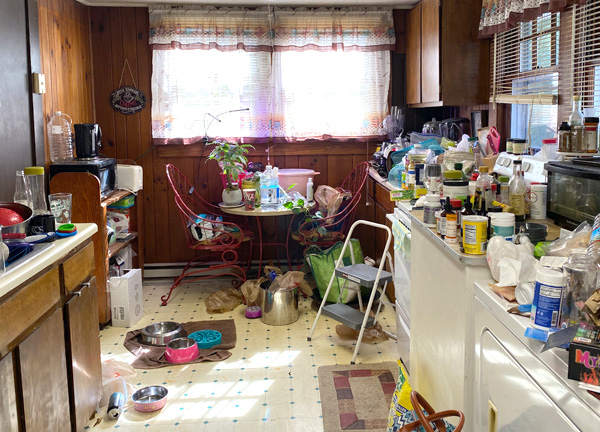 Before | This cluttered kitchen had become a source of stress for the homeowner, who stopped using it altogether.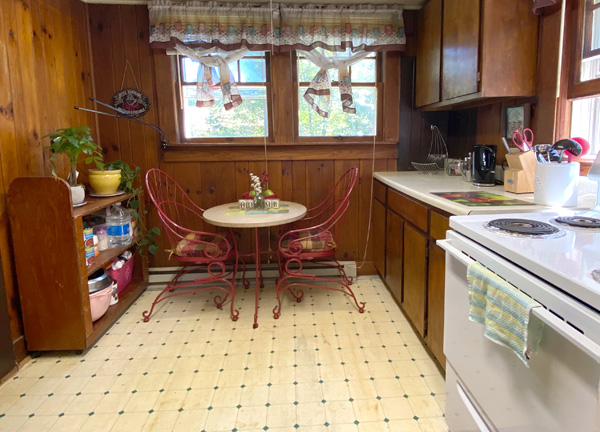 After | We worked together to assign dedicated spaces to each category, clearing off all of the surfaces, and making it easy to cook, clean, and maintain order and efficiency moving forward.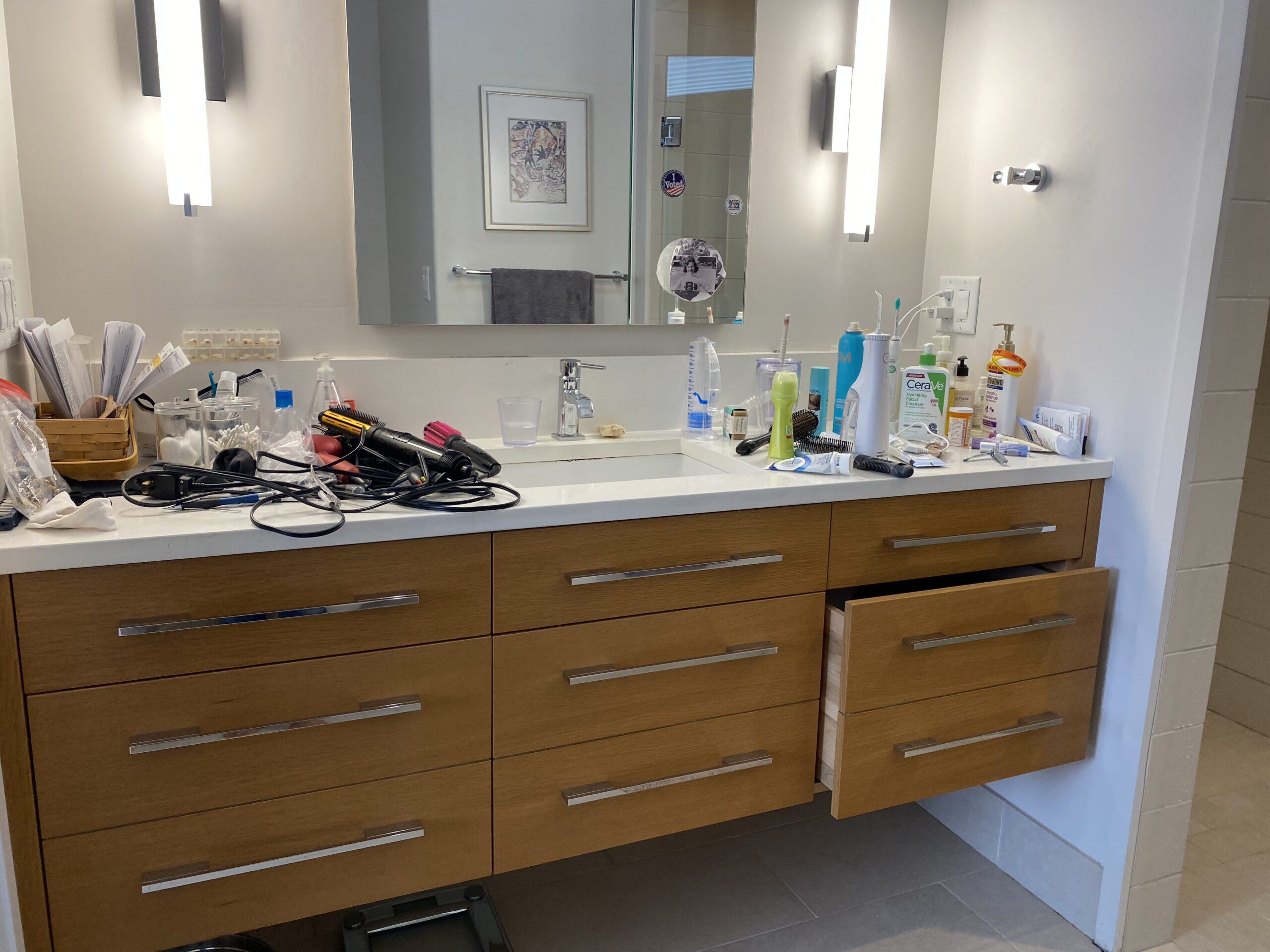 Before | The bathroom had become cluttered with toiletries, personal care items, and hair styling accessories which created discomfort for the homeowner around the ritual of getting ready in the mornings.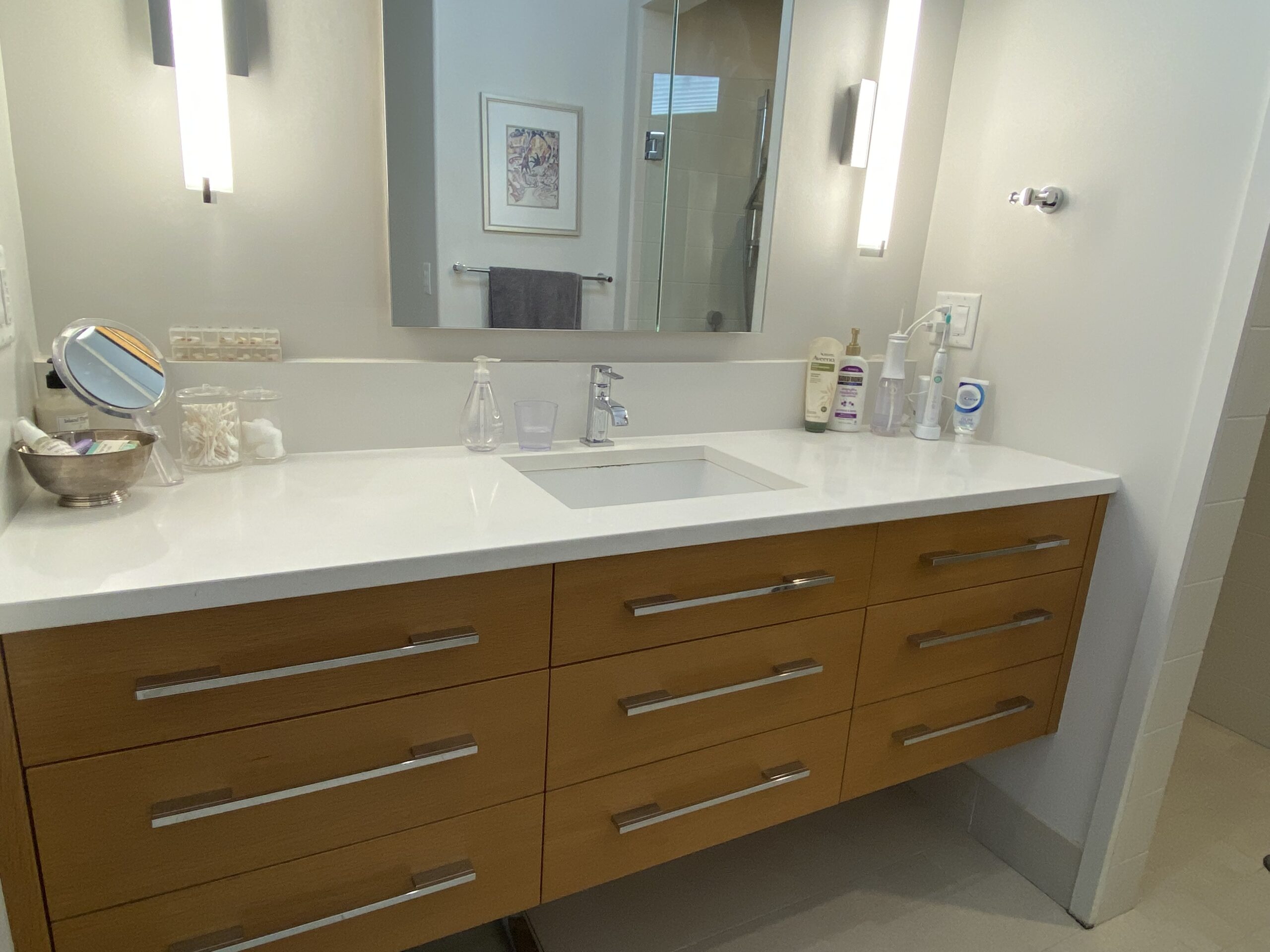 After | We prioritized keeping the vanity top clean and open, and created compartmentalized spaces in each of the drawers for storing each category of personal care items.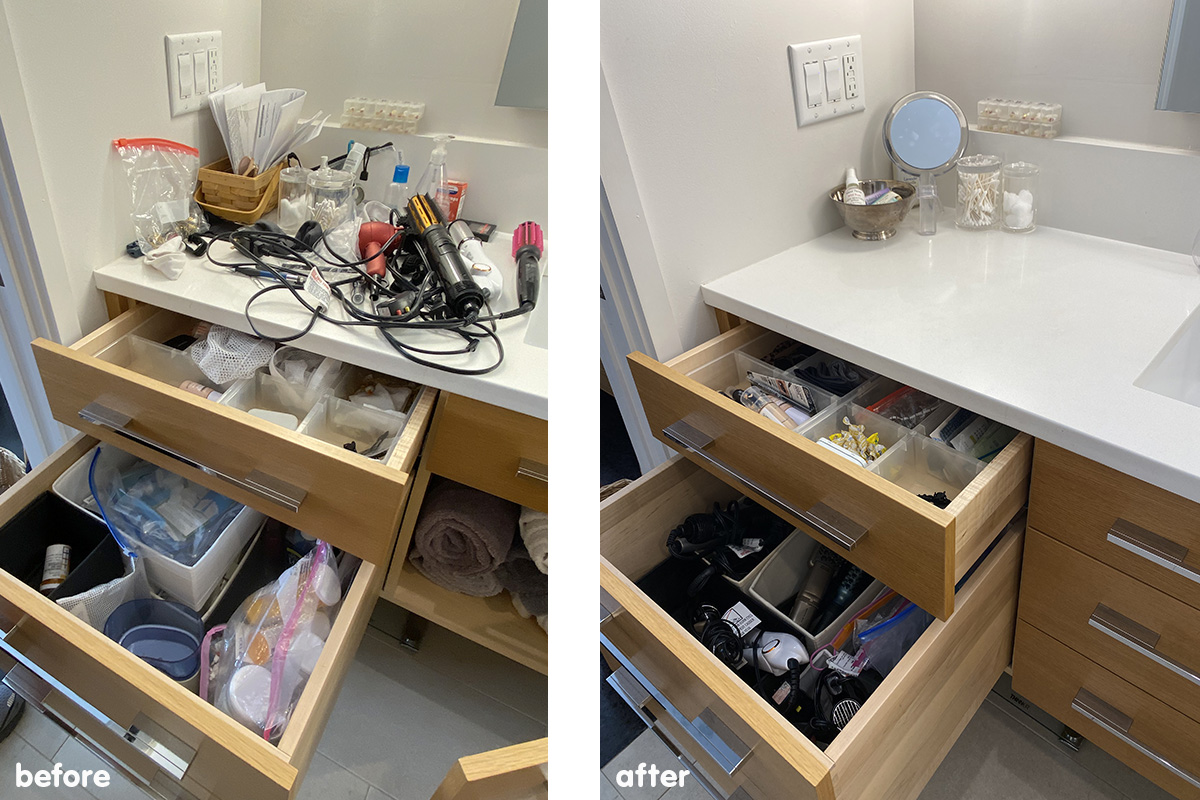 Before & After | Each of the vanity drawers has designated spaces that are easy to see, easy to access, and easy to maintain.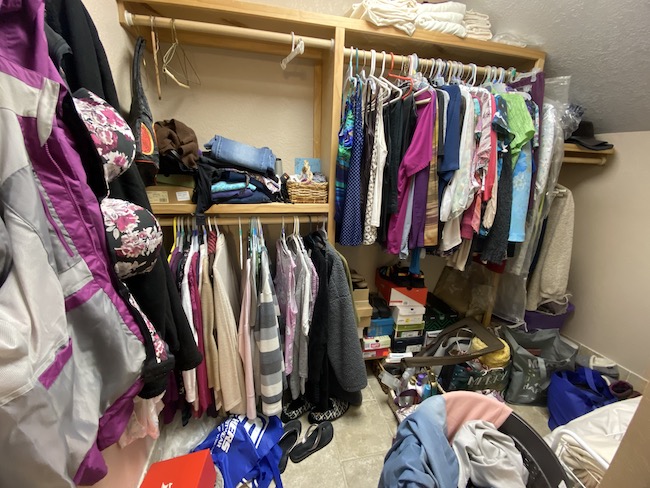 Before | The homeowner was dreading finding something to wear, and the closet had become a source of stress and overwhelm, as well as a trip hazard.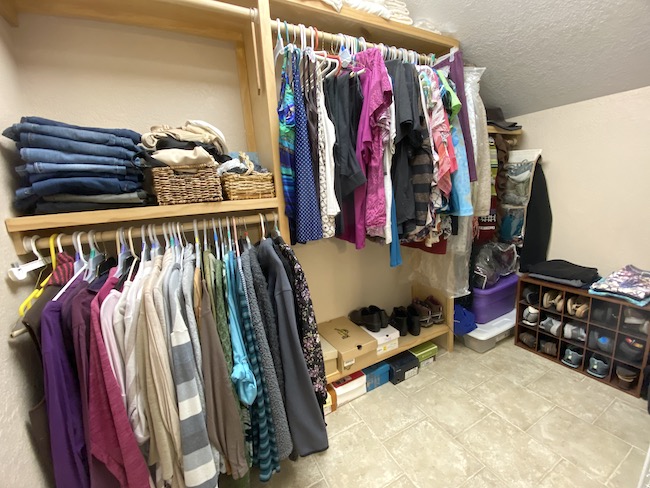 After | The newly-organized closet provides an open walkway, and makes it easy to see and access seasonal clothing items, shoes, accessories, and handbags.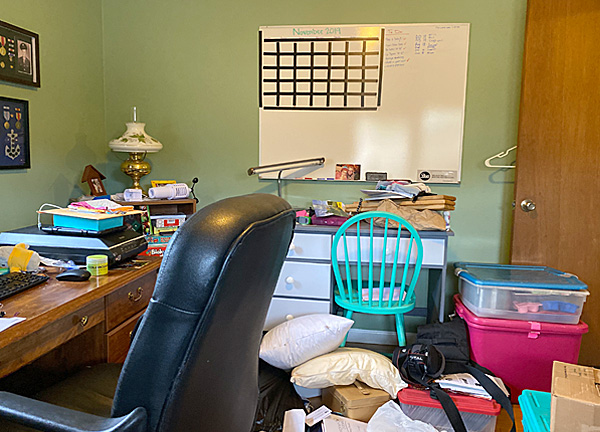 Before | The home office that had become cluttered with miscellany and unusable after a recent move.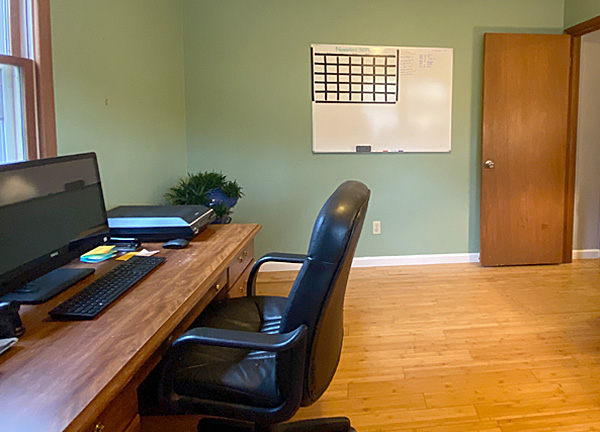 After | We selected the items that would remain in the home office, relocated the ones that belonged in other rooms, and reclaimed beauty and efficiency of the space.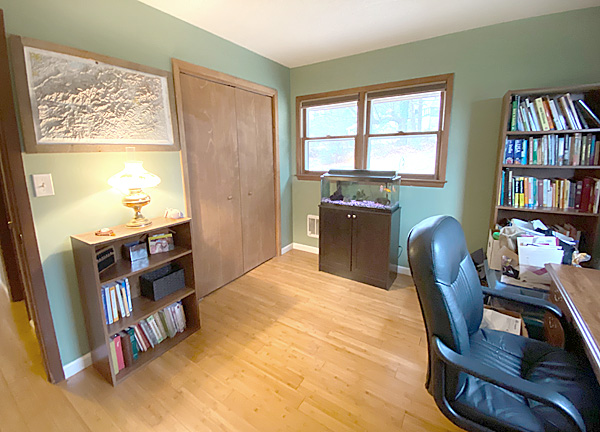 After | More views showing the home office after our transformation session.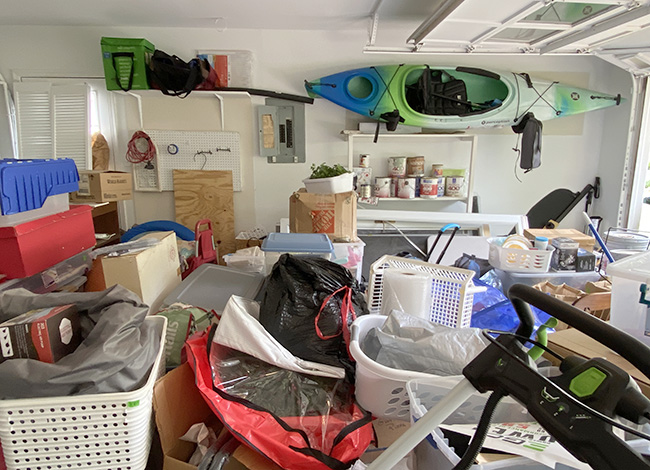 Before | We organized the garage together by sorting through items and relocating those that belonged elsewhere, were suitable for sale or donation, or were no longer useful.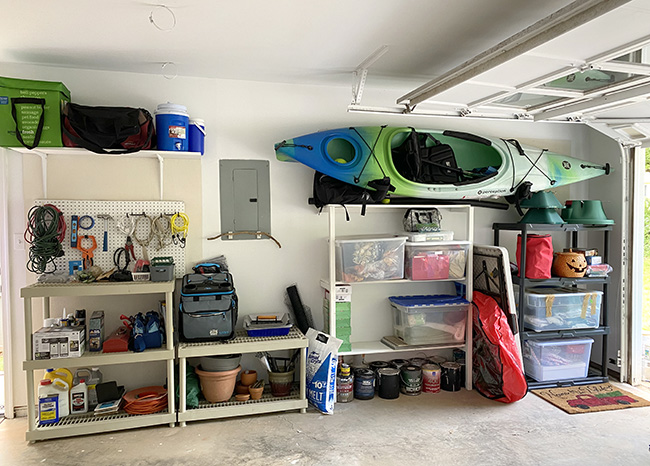 After | Everything is easy to see, easy to access, and organized by the categories that the homeowner uses most often.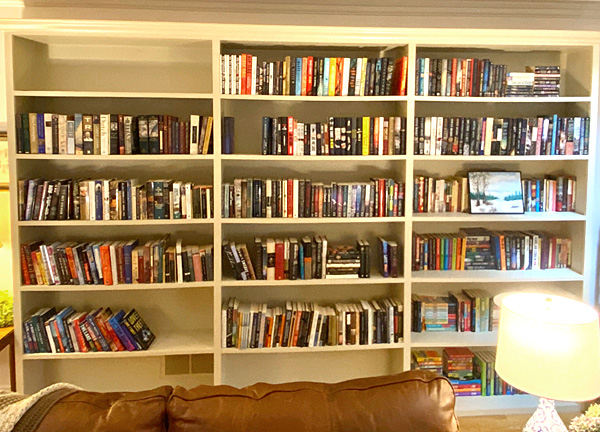 Before | This extensive book library is a valued part of the homeowners' lifestyle, however it had become cluttered, difficult to manage, and visually overwhelming.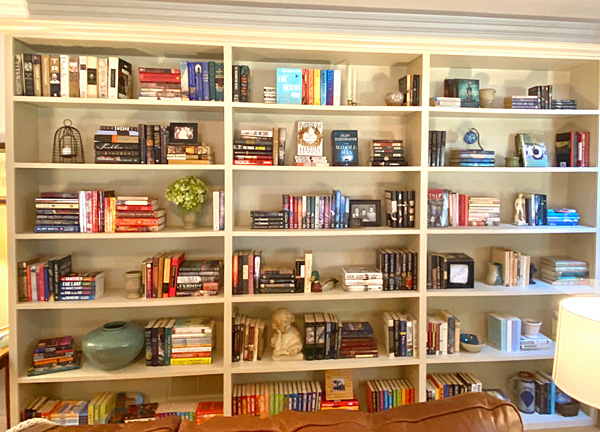 After | We organized the books by subject and author, and then I added their favorite travel mementos, gifts, photos, and handmade artistic objects to stylize each shelf and transform their home library into a beautiful and spacious showcase of memories that had shaped their lives.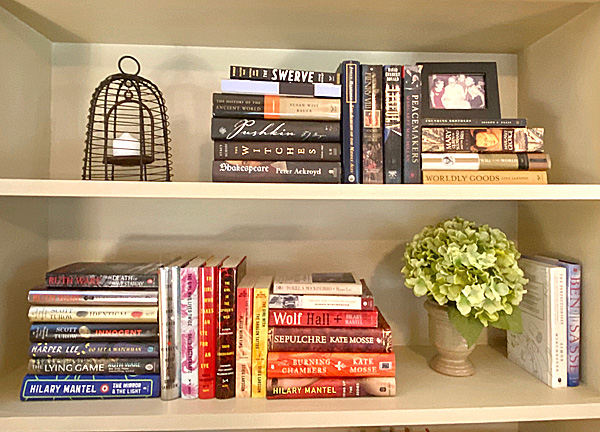 After | Closeup showcasing one shelf of the newly stylized home library.
Before | The tack room at this horse barn had become cluttered and it was difficult to see and access bridles, saddles, and saddle pads.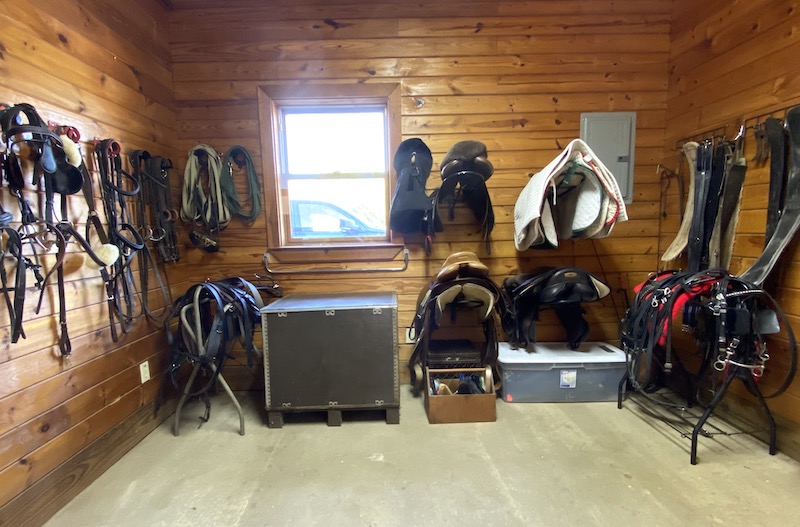 After | We created a spacious walkway to ensure safe, easy access to all the horseback riding equipment, and organized the gear in a way that was easy to see and maintain.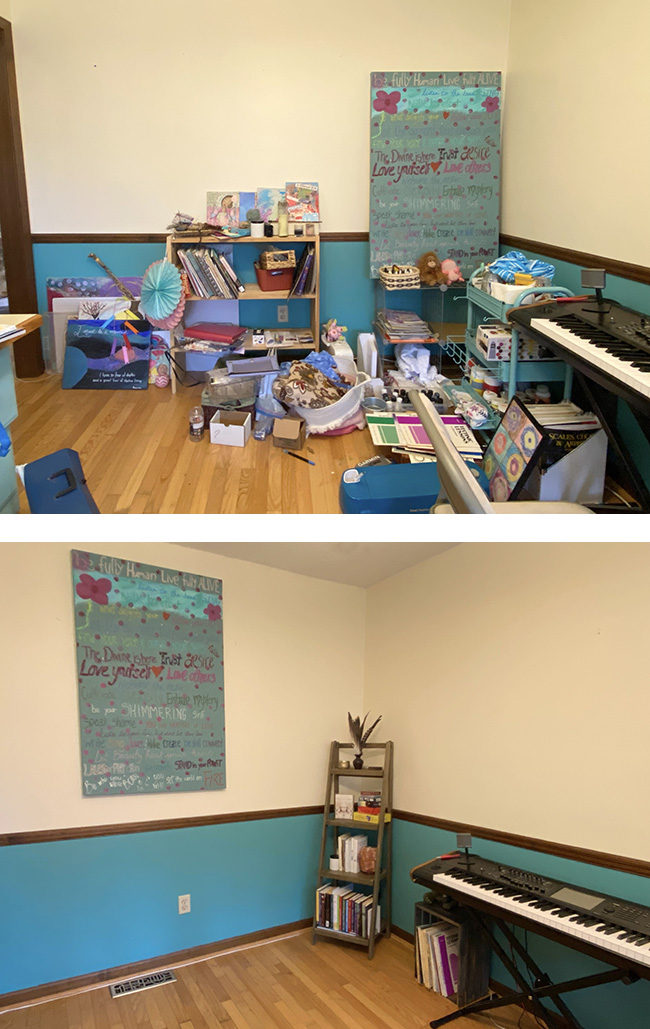 Before & After (above two images) | Although this room had become a catch-all for a variety of papers, toys, art supplies, and memorabilia, the homeowner had a deep desire for this room to become a dedicated creative space.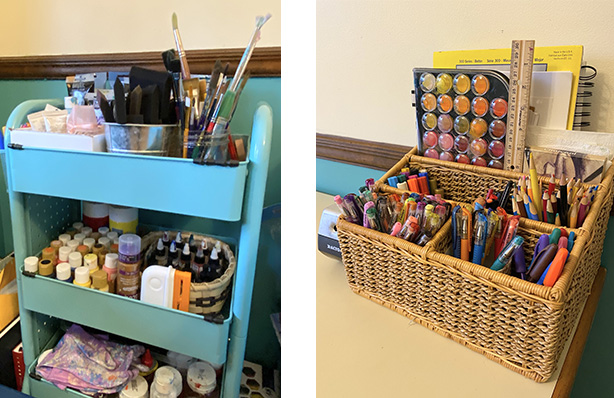 We collaborated to consolidate and compartmentalize the array of art supplies, making sure that they would be easy to see, easy to identify, and within easy reach.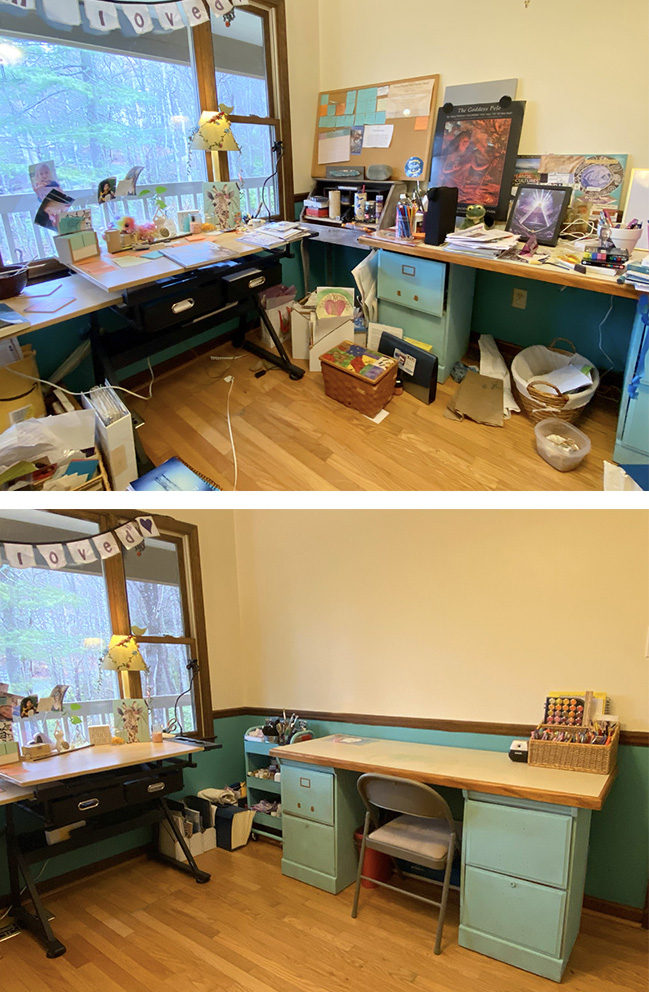 Before & After (above two images) | We created storage solutions using existing carts and drawers, and cleared off countertops to ensure open areas that would suit both smaller and larger projects. The result is an efficient space that supports an evolving variety of audio and visual expression formats.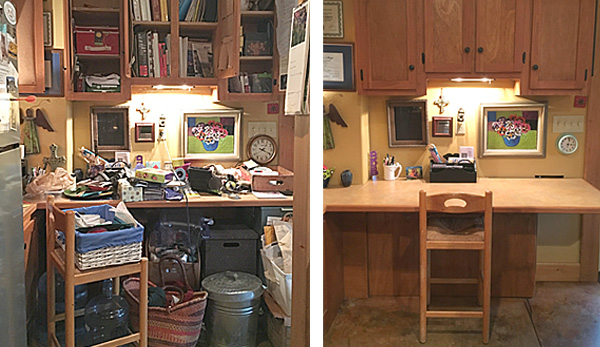 Before & After | This office nook is located near the entranceway of the home and had become a cluttered repository for a variety of items. We reclaimed this space as a dedicated office by sorting and relocating things that were best suited for use in other areas of the house.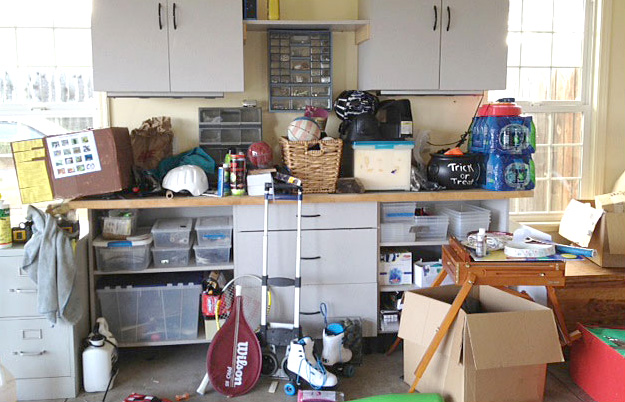 Before | This garage had become overrun with childrens' toys, sports, craft and holiday items.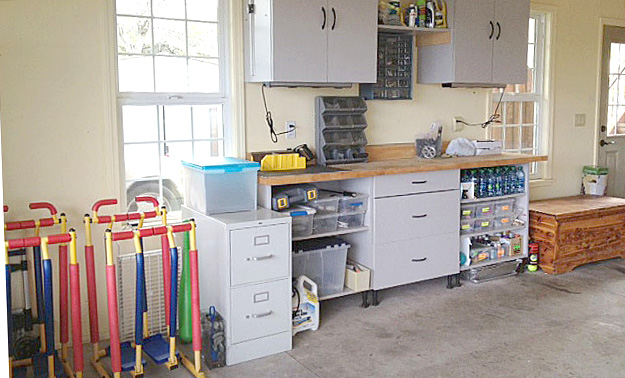 After | I used the existing organizing cubbies and shelving to insert labeled containers and create orderly, easily-identifyable systems that would be easy for the family to maintain.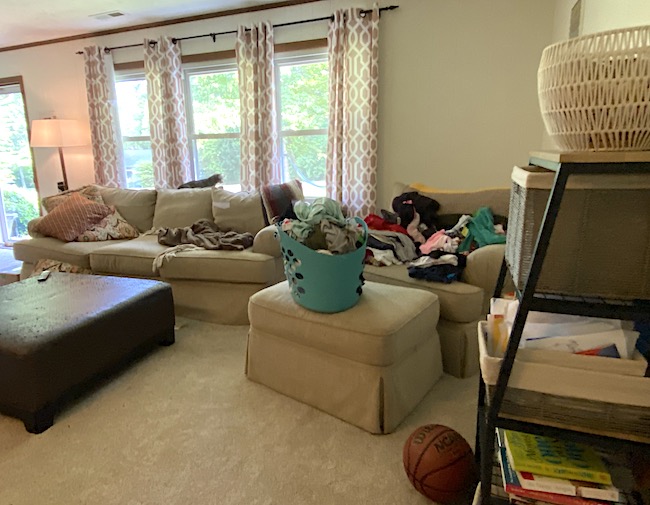 Before | This living room had become so completely filled with children's clothes, toys, and crafts, that the room had lost its function and appeal.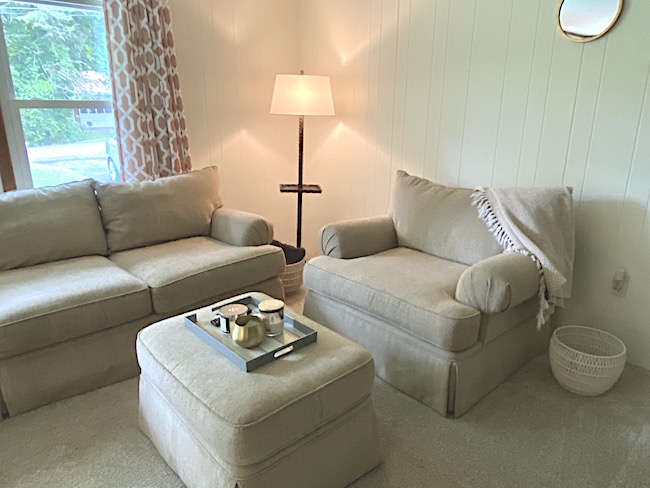 After | We relocated this children's items to their rooms, moved the sofas and art pieces, and reclaimed this space as an intentionally calm, clean, and central socializing spot using existing furniture, lighting, and decor.
After | Cozy essentials including soft blankets, candles, and relaxation books are now all within reach to help promote a place of peace.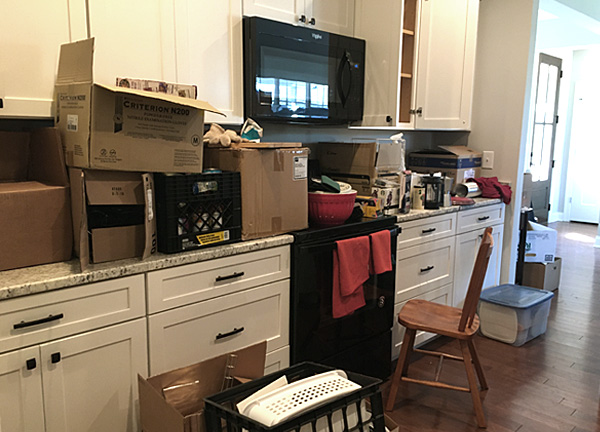 Before | The client was still working full time while moving into a new home, so I was hired to help unpack the boxes and setup the kitchen so that it was beautiful, functional and efficient from day 1.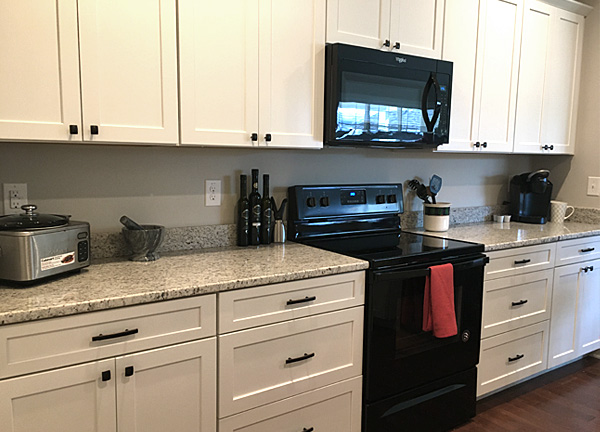 After | Image showing the organized kitchen setup after moving into a new home.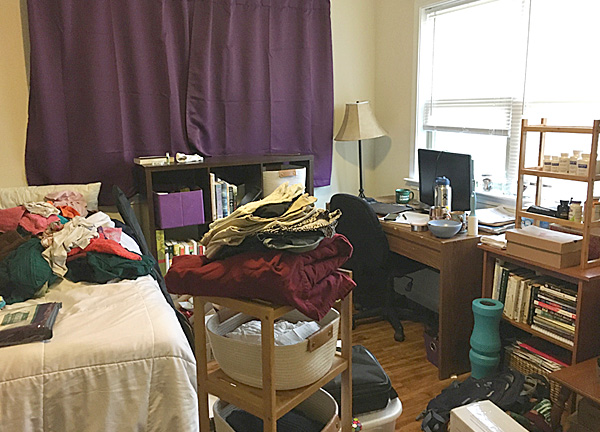 Before | This bedroom lacked systems for managing clothing and book storage.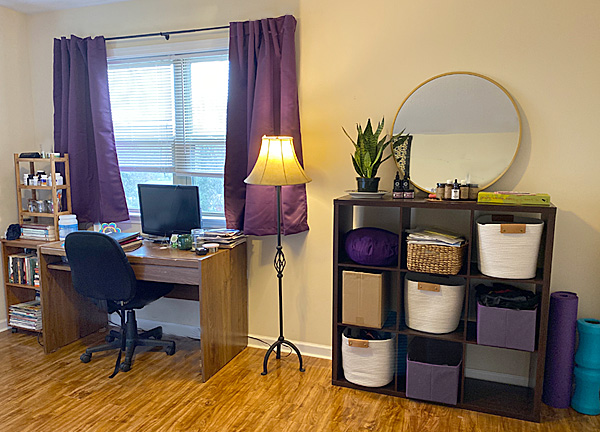 After | We created manageable systems for organizing clothing and books, moved non-essential items to long-term storage, and created usable floor space for a daily yoga practice.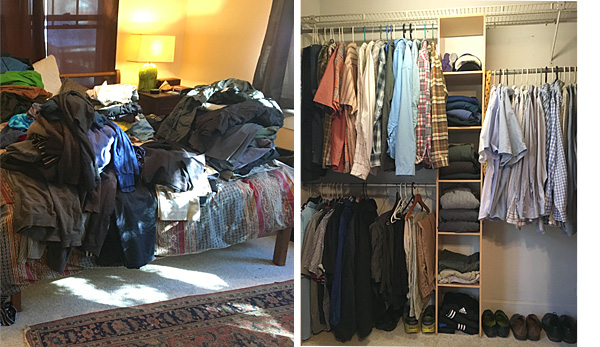 Before & After | I worked with the client to create an organized bedroom closet which displayed favorite clothing items by season, activity, and frequency of use.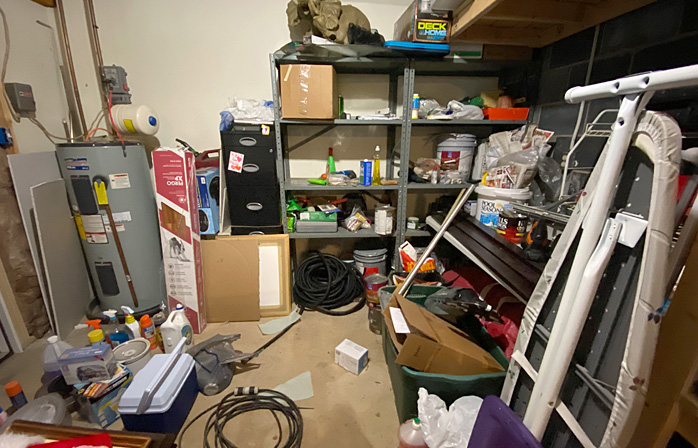 Before | This garage contained a miscellany of cleaning supplies, tools, and seasonal and holiday items items that had not yet been sorted, and whose contents were blocking the walkway.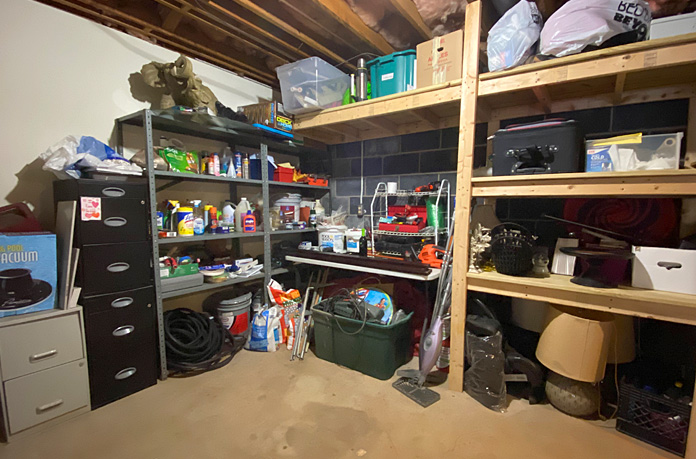 After | I created orderly systems which compartmentalized shelf contents by product type and use , and removed items from the floor in order to create a safe walkway for the homeowners.
home design + decorating projects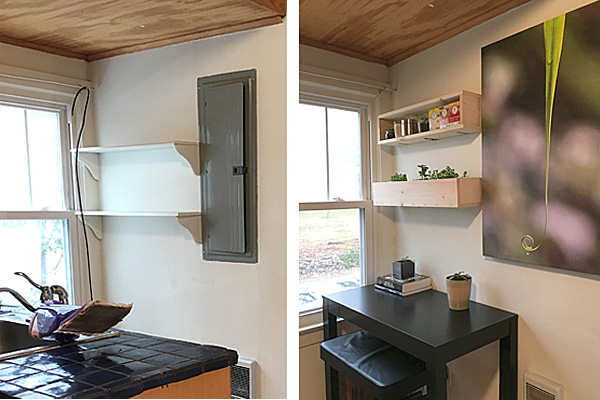 Before & After | This kitchen corner had unsightly exposed cable wires, outdated wall shelving, and a fuse box that was distracting from the overall aesthetic of the space. I designed custom wooden wall shelving with floating brackets for housing ferns and teas, and added a custom canvas photograph to conceal the fuse box.
If you have an organizing project you'd like assistance with, let's talk and discover how we can best work together.


founder and professional home organizer
Get Organized Asheville